Cleanroom wall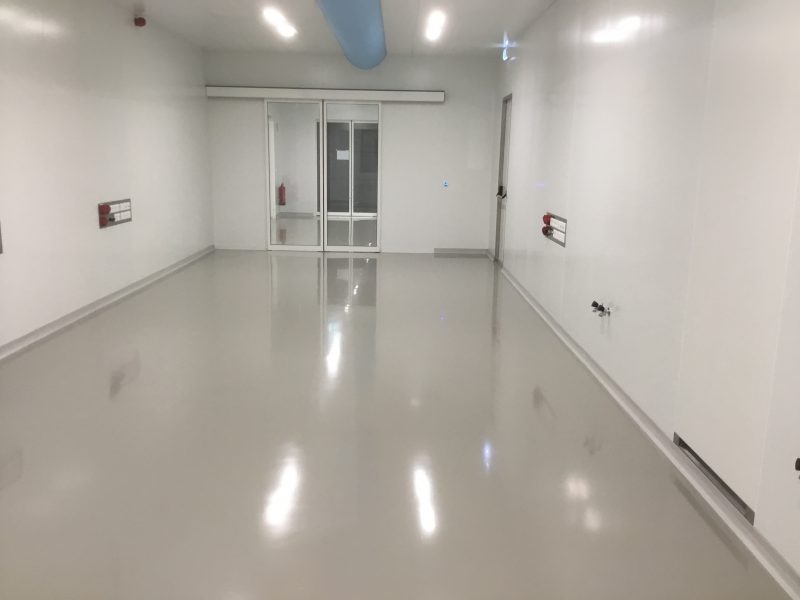 The wall covers about 60% of the inner surface. A flat smooth design is important for classification purposes. HIGHCARE supplies hollow metal walls with more than enough cavity space for pipes and/or return air.
Special characteristics
The metal finish is specially developed for use in cleanrooms and meets all requirements. The transition between the various wall segments consists of a thin 4 millimetre-wide butt joint, filled with a special cleanroom sealant.
The design and composition of this flexible hollow wall system determines the maintenance costs, but also the long-term costs. All HIGHCARE cleanroom wall panels are easy to replace without breaking or sawing should it be necessary in the future to change a panel.
Leasing
The complete system, with the exception of the cast or adhesive floor, can be fully disassembled. The cleanroom can be relocated if necessary. This is why a HIGHCARE can be leased and why there is even a great second-hand market.
Cleanroom wall
The standard HIGHCARE wall is hollow and fireproof. Contrary to cold store elements no PIR, PUR or PS is used. The wall system is unique and has been successfully applied for 25 years. With flat seamless connections between the windows, wall panels and sliding doors.
What's special about the HIGHCARE wall
– Unique air technology; from the ceiling and returned via the skirting boards, via the hollow walls.
– Flat, smooth easy to disassemble walls and ceilings.
– Solid metal system.
– Long economic lifetime.
– Hollow walls and ceilings.
– Pipes are located outside the cleanrooms in walls and above ceilings.
– Walls and ceilings are easily accessible.
– Damaged areas can be replaced quickly and inexpensively.
– Areas can easily be enlarged with this modular system.
– Very competitive, adaptations at limited costs.
– The lighting plan is movable and easy to expand.
– Fireproof materials, no PUR, PIR or PS.
– Synergy between walls, ceilings and technical installations.
– In-house production and engineering.
– Delivered ready to use.
– Flexible, even ten years after completion.
– The wall and ceiling system has been successfully applied for >25 yrs.
Thanks to the use of these special walls, a HIGHCARE room is extra clean. The walls are flat and smooth without pipes, cables and grids. The wall system is hollow – with a cavity – for pipes and/or return air evacuation ducts. The panels can be disassembled and the cavity is accessible. This creates synergy between walls, ceilings, air technology and daily maintenance. The quality of the wall system, with its unique return strips at skirting board level, therefore plays an important role in the classification and the reduction of maintenance costs.
A space without pipes is easy to keep clean, sanitary and can be thoroughly flushed using filtered air; "flush". The absence of annoying pipes in the cleanroom facilitates the daily cleaning of the room. Some cleanrooms are even cleaned several times a day.
Simply interchangeable
The 900 mm wall system is designed in such a way that all parts are easily interchangeable. HIGHCARE has opted for a basic size of 300 mm for all building components. This modular measurement will make cabinets, tables, chairs, seating, inside widths of door frames, walking spaces, etc. fit into the room as standard.
Due to this modular principle the need of having to include special sizing is basically non-existent. All components in the cleanroom are built according to this modular system. This makes windows, doors, return grids, LED lighting, etc., simple to exchange. Using this system "everyone" can, in principle, put together a design on paper.
Material
Opting for such a reproducible wall system, which is inert and reliable in terms of dimensions, explains why HIGHCARE prefers to use metal. There is no alternative to metal that meets so many requirements, such as resistance to mechanical damage, fire safety, antistatic properties or reproducibility.
This wafer-thin material is strong and able to withstand great forces. It is readily available in large sizes and with different types of finishes that are resistant to all kinds of chemicals.
Hollow wall (cavity wall)
In cleanrooms, it is the flush and sanitary features that determine the quality of the space. The HIGHCARE wall system is hollow. The wall cavity is used to facilitate fitment of utilities from outside the area. The cavity space remains accessible from the intermediate floor even after completion. The wall panels are easy to open for expanding or relocating connections. The hollow space is also used to discharge return air.
Expansion joints between wall panels
The HIGHCARE cleanroom wall is flat and closely fitted on four sides. The vertical seams are connected with a special 4 mm wide cleanroom sealant. The width of the seams is chosen in such a way that the joint remains tightly connected to both panels and the back. The connection is airtight and waterproof. The special cleanroom sealant is both flexible and adhesive and can be removed after disassembly, if necessary. The system is designed in such a way that all walls can be easily disassembled and reassembled.
Synergy
Over the past twenty years, cleanroom walls have been greatly improved. In the HIGHCARE cleanroom, the synergy between walls, ceilings and air treatment technology forms the basis for the high technical level. We have been producing cleanrooms for over twenty-five years. Compact sterile metal wall elements, efficient and flat provided with many glass segments for a safe and pleasant working environment.
< CCONTACT / ADVICE / QUESTIONS? >
Disassemble/reassemble
A cleanroom wall is sometimes disassembled several times during its life cycle in order to update machinery or other technical components. The HIGHCARE wall system will always make it possible to disassemble and reassemble the wall after installation as well as rearrange wall segments, if necessary.
Fireproof system
Back